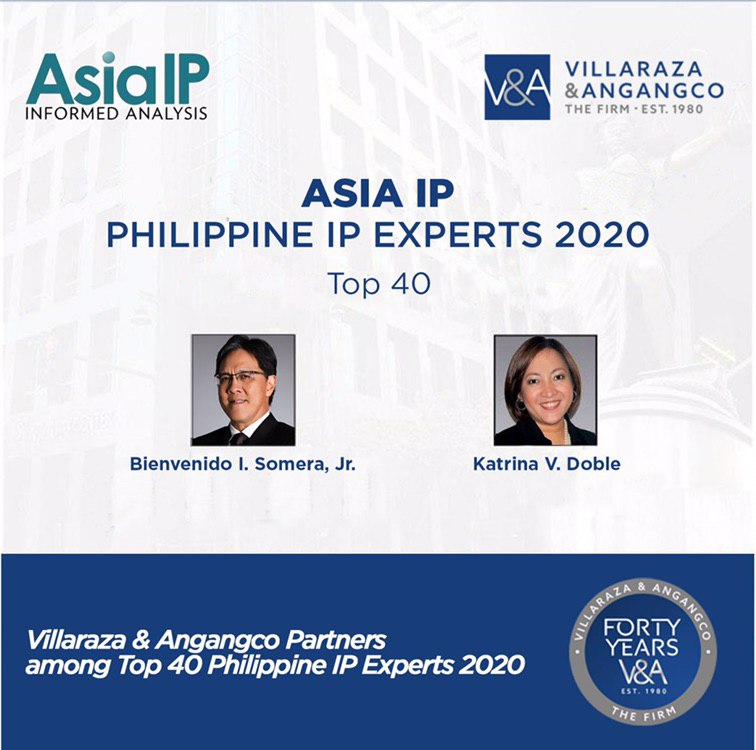 Villaraza & Angangco Partners Bienvenido I. Somera, Jr. and Katrina V. Doble are ranked in the Top 40 list of Asia IP's Philippines IP Experts 2020.

As head of V&A Law's Intellectual Property Department, Senior Partner Bienvenido Somera has led the firm's accelerated growth in the field of intellectual property law in recent years. Highly regarded for his quality legal advice and unparalleled dedication in providing exemplary and timely responses to clients, Atty. Somera is deemed as a crucial partner to in-house counsels and senior business leaders both in the local and international legal spheres.

With fifteen years of experience in IP litigation and trademark prosecution, Junior Partner Katrina Doble has been consistently recognized as an outstanding provider of practical, real-world and business-savvy advice in intellectual property law. More than her exceptional understanding of key issues, Atty. Doble is praised for her in-depth analysis not only of the current law but also of the upcoming trends which are likely to impact her client's business.

#TheFirmatForty #SettingTheBar #WeMakeHistory #IntellectualProperty #AsiaIP