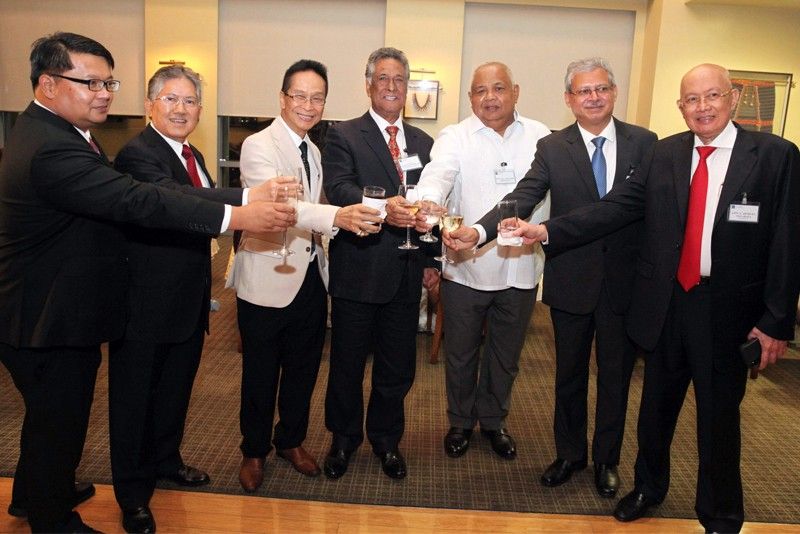 Lawyer Alejandro Navarro, lawyer Raoul Angangco, Presidential Spokesperson and Chief Presidential Legal Counsel Salvador Panelo, Ambassador Designate to India and Nepal Ramon Bagatsing Jr, Executive Secretary Salvador Medialdea, Ambassador of India Jaideep Mazumdar, lawyer Pancho Villaraza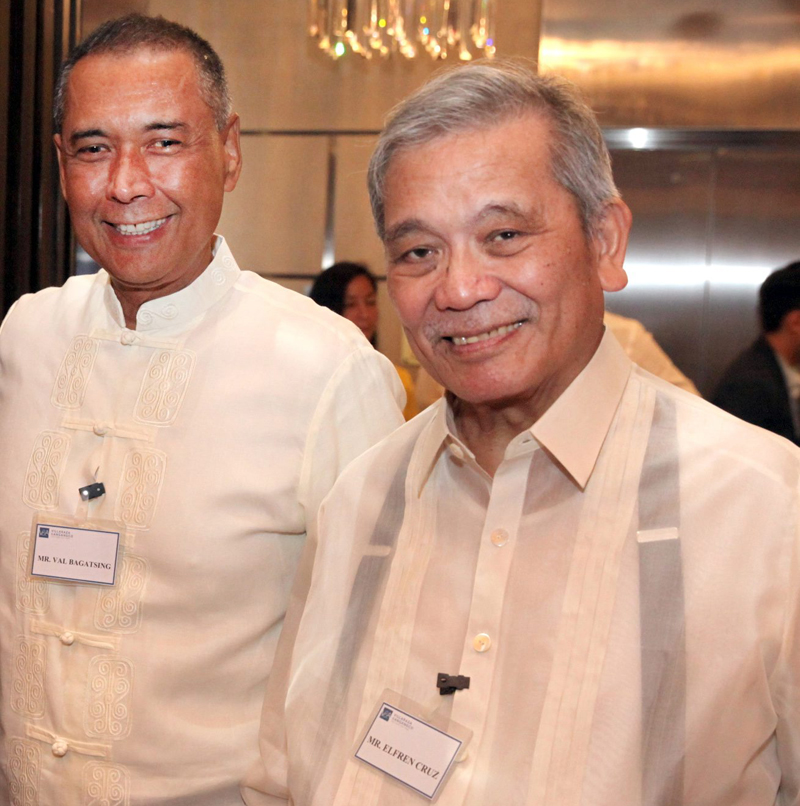 Val Bagatsing, Elfren Cruz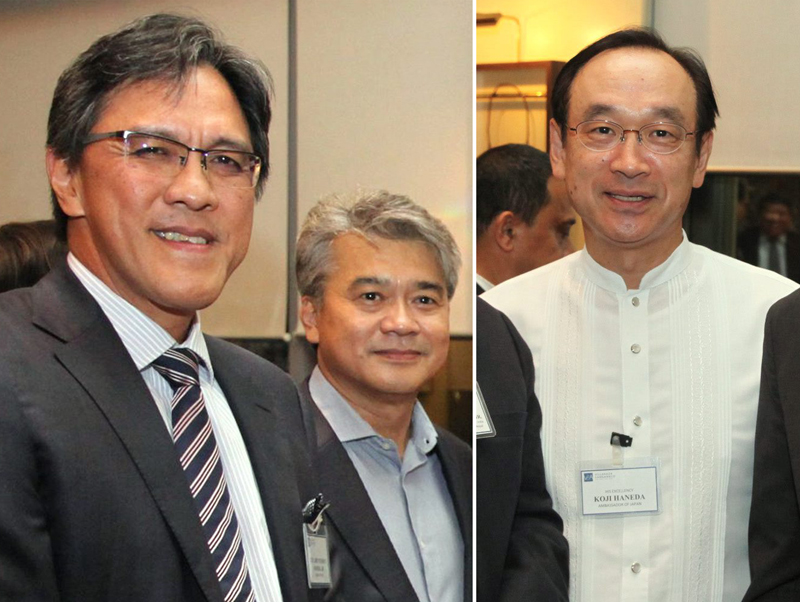 Lawyer Bienvenido Somera, Jr., Adrian Cristobal, Jr., Kohju Haneda, Ambassador of Japan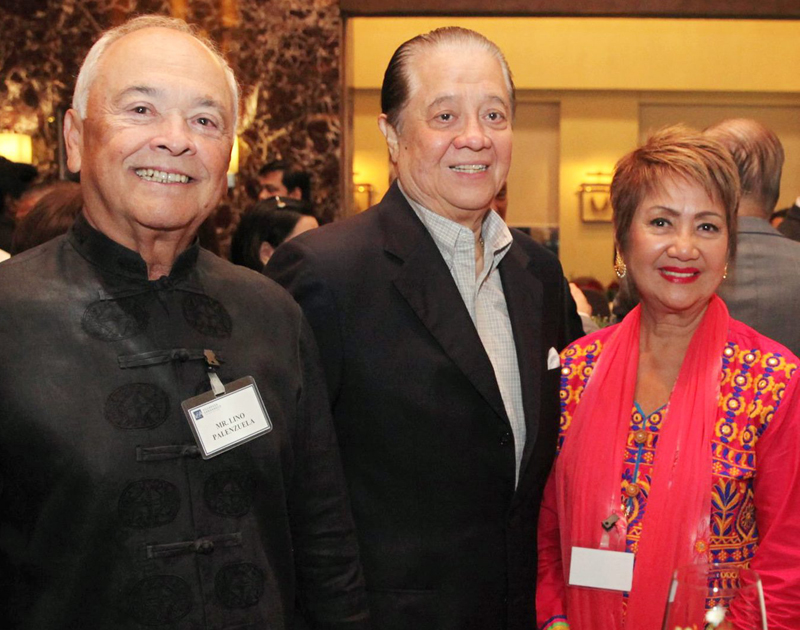 Ambassador Lani Bernardo with Lino and Toni Palenzuela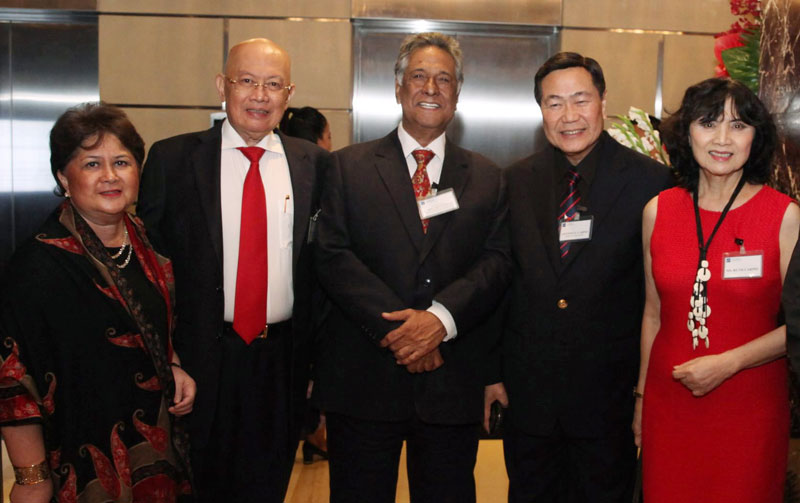 Sally Villaraza and lawyer Pancho Villaraza, Ambassador Designate to India and Nepal Ramon Bagatsing Jr. with Senior Associate Justice Antonio Carpio and wife, Ruth Carpio
Previous
Next
A dynamic duo of childhood best friends who were part of an attempt to impeach a president and a Supreme Court chief justice, plus crusading to break up a former telecoms monopoly in the Philippines — that describes "The Firm" top honcho lawyer F. Arthur "Pancho" Villaraza and ex-congressman, now new Philippine ambassador to India and Nepal, Ramon "Dondon" Bagatsing Jr. They agreed to give Philippine STAR an exclusive and no-holds-barred interview over dinner.
Philippine STAR: Is it true you've been close family friends since your San Beda kindergarden days?
Arthur "Pancho" Villaraza: Yes, we've been classmates since our kindergarden days in San Beda College, all the way up to high school.
Dondon Bagatsing: Even as kids, we'd have sleepovers at their house in Don Manuel in Quezon City, while our family lived in Sampaloc district of Manila, there were no traffic problems then.
And both of you have been together legally and politically for many years, including the impeachment proceedings against ex-President Joseph Estrada and the late Chief Justice Renato Corona?
Villaraza: Kami ang nag-impeach sa dalawang Atenista, Corona and Erap (We together impeached two Ateneans, Corona and Erap). We helped rewrite history.
Bagatsing: We have been through a lot of history, our friendship surpasses political lines.
How could you, Dondon, be on the same side as Pancho during the impeachment against Erap, when you were under Erap's then Executive Secretary, the late Edgardo Angara?
Villaraza: Of course he was on my side! Dondon was then chief of staff of then Erap's Executive Secretary Ed Angara… We were both also responsible for the breakup of the PLDT monopoly (then under Tonyboy Cojuangco). He was in Congress and I was the lawyer outside, Dondon was the spokesman. The breakup of the telecom monopoly was the centerpiece of the Ramos administration's reforms.
Bagatsing: Our advocacy together was deregulation of and the breakup of monopolies in the Philippines. A lot of politicians think they are the power, but they're actually merely vessels of economic and intellectual powers. People like Pancho Villaraza provide the intellectual power.
Ever since your San Beda schooldays, who's the intellectual?
Villaraza: He used to copy from me! (Laughs)
Bagatsing: My gosh… On a personal note, he's a fantastic artist since before. He's good at charcoal art.
Was there any teacher or priest in San Beda whom you cannot forget?
Villaraza: The late Fr. Benigno Benabarre. He later became abbot of the San Beda monastery. He gave us the moral values, he gave us the "north star." He taught us: "Always do what is right, even when no one is looking. What is wrong is wrong, even if everyone is doing it, and what is right is right even if no one is doing it."
Bagatsing: Fr. Bernabarre, he died at 102 years old. He was a strict disciplinarian.
How do you feel that San Beda is now more famous as the school of President Rody R. Duterte and that it has become a university under Rector President Fr. Aloysius Ma. A. Maranan? Did you meet Duterte on campus? Your impressions of him?
Villaraza: I'm very proud of our school and that Bedan President Duterte is very good; but no, I wasn't able to meet him because he's older. His Executive Secretary Salvador "Bingbong" Mediadea is also Bedan, but younger than us I think.
Bagatsing: We're very proud and also pressured, because that's governance. You have to do well governing the country. It's a challenge, para hindi mapahiya (so we won't be embarrassed).
By the way, how did you end up being appointed ambassador to India?
Do you want the true version? Kailangan nila ng Bumbay (They needed an Indian)! (Laughs)
I heard that apart from being new ambassador to India and Nepal, you'd also be our envoy to the small and happy nation of Bhutan?
Yes, I will be ambassador to India and Nepal, with oversight over Bhutan. We still do not have diplomatic relations with that nation of 850,000 people and known as "the world's happiest nation."
How many Filipinos live in India, and how many Indians live here in the Philippines?
There are about 3,000 Filipinos in India, kalahati sa kanila mga asawa ng Bombay (half of them are wives of Indians). There are more Indians here, there are 80,000 recorded, those include the "5-6" moneylenders in the palengke (wet markets) who help people who cannot borrow from banks.
Who was the immigrant from India in your family?
My grandfather was the immigrant, his full name was Bhagat Singh. When he became a Christian, he combined his full name as the new surname "Bagatsing." He worked in Insular Lumber in Sagay, Negros Occidental in the 1910s. My father, the late Manila Mayor Ramon Bagatsing, was born there. They came to Manila in 1937 or 1938. My father later became the longest-serving mayor of Manila, 15 years.
Why do you think Duterte has become such a phenomenal political success?
When President Duterte appointed me, he shook my hands and said: "Good luck, pagbutihan mo (do your best)." He is a committed and dedicated leader, good for the country. The people love him, because he knows how to connect to the masses.
Villaraza: Duterte is successful because he makes things happen, unlike the previous one who was all talk and nothing was happening… Matapang na leader (He's a courageous leader).
How do you assess Duterte's foreign policy reforms?
President Duterte's independent foreign policy is to make more friends for the Philippines. Geopolitics has changed from that of 50 years ago, there's no longer a Cold War, no longer the arms race. What's more important now is economics, trade, no more firing of bullets.
Going back to when both of you were at San Beda, I heard that you spent vacations at the Bagatsing family's ranch?
In the 1960s, the Bagatsing family owned a big ranch in Alabang, all of Alabang Hills. The resthouse of Mayor Bagatsing was there and they bred horses with thoroughbred horses imported from everywhere. We were altogether about 12 classmates, every weekend we'd spend it at their ranch in Alabang Hills. Dondon would tell his rancheros to roast a baby cow for us and we ate it all night. My favorite part was the ribs.
What are the secrets to your enduring, long friendship?
Villaraza: He can do no wrong and I do no wrong! (Laughs)
Bagatsing: If something goes wrong, it's somebody else's fault! (Laughs)
Source: https://www.philstar.com/lifestyle/sunday-life/2019/06/02/1922788/pancho-villaraza-dondon-bagatsing-san-beda-years-vacations-horse-ranch-impeaching-2-ateneans-breaking-monopolies#WixSp1KkxCz7O7zH.99