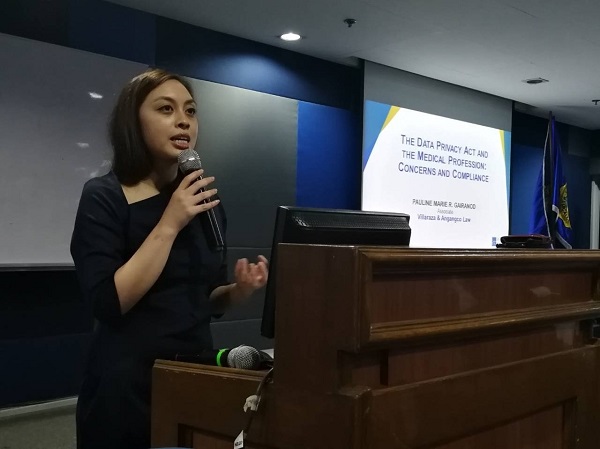 On 10 October 2018, Pauline Marie R. Gairanod, an associate of Villaraza and Angangco Law's Corporate and Commercial Law Department, delivered a lecture on the relevance of the Data Privacy Act of 2012 to the medical profession before 400 College of Medicine students and staff at the University of the East Ramon Magsaysay Medical Center (UERMMC).
In the lecture, titled "The Data Privacy Act and the Medical Profession: Concerns and Compliance", Ms. Gairanod introduced key concepts and nuances in the Data Privacy Act of 2012, its implementing rules and regulations and issuances of the National Privacy Commission, discussed the specific application of the law to medical and healthcare professionals, and examined some of the best practices in ensuring compliance in clinics and hospitals. An open forum followed, in which Ms. Gairanod responded to questions from the audience on the non-retroactivity of the law, penalties for specific violations and current events relating to data privacy.
The lecture was part of the UERMMC's Med Week, a week-long celebration of the College of Medicine, with the theme "MD: Modern Doctors". The Firm's Corporate and Commercial Law Department handles the data privacy compliance concerns of corporate entities, including public and publicly-listed corporations, across various industries, such as insurance and reinsurance, financing, logistics, asset management and software development.