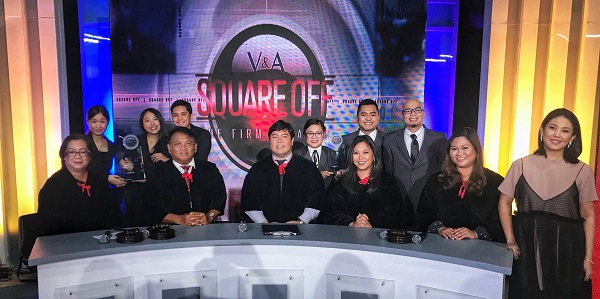 On June 10, 2018, law students from some of the country's top law schools battled it out for the championship in the Grand Finals of Season 15 of Square Off: The Firm Debates, the debate program sponsored by the Firm which airs on the ABS-CBN News Channel.
The proposition for the final battle of this season comes on the heels of the Senate's approval of Senate Bill 1717 or "An Act Providing for the Basic Law for the Bangsamoro and Abolishing the Autonomous Region in Muslim Mindanao". Arguing for the unconstitutionality of the Bangsamoro Basic Law, the University of the Philippines argued that the BBL violates the principle of separation of powers and the independence of constitutional bodies, and encroaches upon the legislative power of Congress. This was countered by St. Louis University as they emphasized that the BBL is in harmony with the Constitution and that it will solve the peace and order problems that have long plagued Mindanao as well as promote economic development and address the social injustices that the Bangsamoro have struggled with for decades.
It was a close fight between the two sides but in the end, the team from the University of the Philippines emerged as the champion. While the team from St. Louis University did not take the grand prize home, one of its debaters, Dianalyn Santos, was awarded as the Best Speaker.
The panel of judges for this debate was composed of Regional Trial Court Judges Ralph Lee and Cynthia Ricablanca and Junior Partners of the Firm, Attys. Joseph Anthony Lopez, Kristin Charisse Siao, and Leah Quesada.
Square Off: The Firm Debates shall return for its 16th season in the 3rd Quarter of 2018.